Tianzhijiao Warmly Welcomes Pakistan customers' Visit
Views:216 Author:Site Editor Publish Time: 2019-12-30 Origin:Site
Recently, Pakistan customers visited our factory. Accompanied by company leaders and foreign trade personnel, they visited our factory's production workshop and operation process. On behalf of the company, our workers extended a warm welcome to the customers and arranged a detailed reception.
Accompanied by the main person in charge of each department, Pakistan customers visited the company's sales department, R&D department and our workshop. The customers visited and used the instruments and equipment on site, and the customers were amazed by the good performance of the equipment. They decided to purchase our valve grinding machine and valve cutting machine on site.
Through this visit, Pakistan customers learned that Tianjiao's strict requirements for high quality are behind the products, and they are trusted us as their partners. After this on-site inspection, the customer stated that he saw the company's overall strength and was full of confidence in the future development of our company. This inspection laid a good foundation for the cooperation between the two sides. They hope to achieve complementary win-win and common development in future cooperation projects!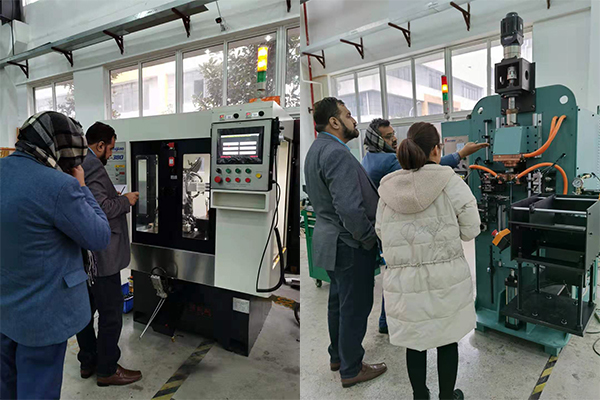 Pakistan customers showed strong interest in our hydraulic electrical upsetting machine and valve straightening machine as well. They have the willing to purchase the machines in next cooperation.
Suzhou Tianzhijiao Precision Machinery Co., Ltd has been designing and manufacturing CNC Valve Grinding Machine more than ten years. 60% of our machines are exported Japan, Indonesia, Mexico, South-East Asia, Europe and South Africa. We are specialized in Special Purpose Machine for engine valve and provide accessories. Almost our machines include automatic loading and unloading and are designed to be fast, flexible and reliable.